From
blueghostpublicity.com
Dim Mak's latest signing
ALL LEATHER
prepare for record release and open for the Yeah Yeah Yeahs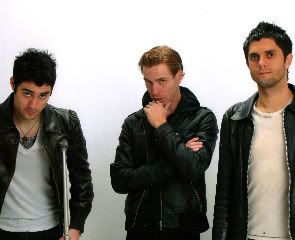 ALL LEATHER
, the trio formed in the down time of other projects, features Justin Pearson who usually spends his time touring the world in the Locust, Nathan Joyner of Some Girls, and Jung Sing from Mexico's star "lazer punk" band Maniqui Lazer. They will proudly be releasing their first EP on Dim Mak Records this Summer - July 7th digitally and physically (vinyl and CD) later in August.
Describing themselves as making you "want to crawl out of your skin into the raw, foul animal hide that is All Leather," the band, while never abandoning their invasive envelope-pushing noise roots, head to the dance floor to experiment more with quirky electro beats and digital hardcore. The result is a dark and erotic dance over shards of glass.
ALL LEATHER
have been cutting their teeth performing around Southern California and the border towns of Mexico and recently came back from SXSW having impressed all those that happened to make their acquaintance.
On June 8,
ALL LEATHER
will heat up the stage and keep it warm for long time pals the Yeah Yeah Yeahs in Tempe, AZ at the Marquee Theatre (739 N. Mill Ave).